Designing for a client can be challenging enough. You must show your designs as well as promote and highlight the value that your design will bring to the client's company. In many cases designers use Desinion as a focus group to get justification and validation that their designs are liked by the right target audience. Designers upload their design concept on Desinion, by creating a design debate, that in turn gets published publicly on Desinion.com. Once public, designers get 100's of opinions on which design concept works for which target audience, as well as this they get insightful comments and statistics on their work; Desinion offers an easy way to findout what various audiences and demographics think about your work in progress and statistics on your designs that you can later present to the client. But what if you are working for a client that won't allow you to share your design concepts and ideas publicly? or maybe you feel uncomfortable sharing your concepts with a community,  yet you still want to get insightful feedback and statistics as well as a focus group's opinions on your design ideas and concepts?
DesinionPro now offers Desinion Private Debates as an answer to this situation. With Desinion Private Debates you, as an individual designer, or a designer on a design team can create your design concepts as you normally would, and then get unlimited feedback, statistics and opinions on your work privately, and securely from only the people that you want to get feedback from.
The process is simple. DesinionPro designers can create a design debate as normal, asking their question, and upload their designs concepts, then before publishing the design debate, DesinionPro users can mark the debate as a private debate, as oppose to being a public debate. Once the debate is marked as being a private debate, this means that Desinion will not publish your designs or your design debate to the public, instead, immediately after creating the private design debate a unique and secure URL will be created for users to share with anyone they want opinions from.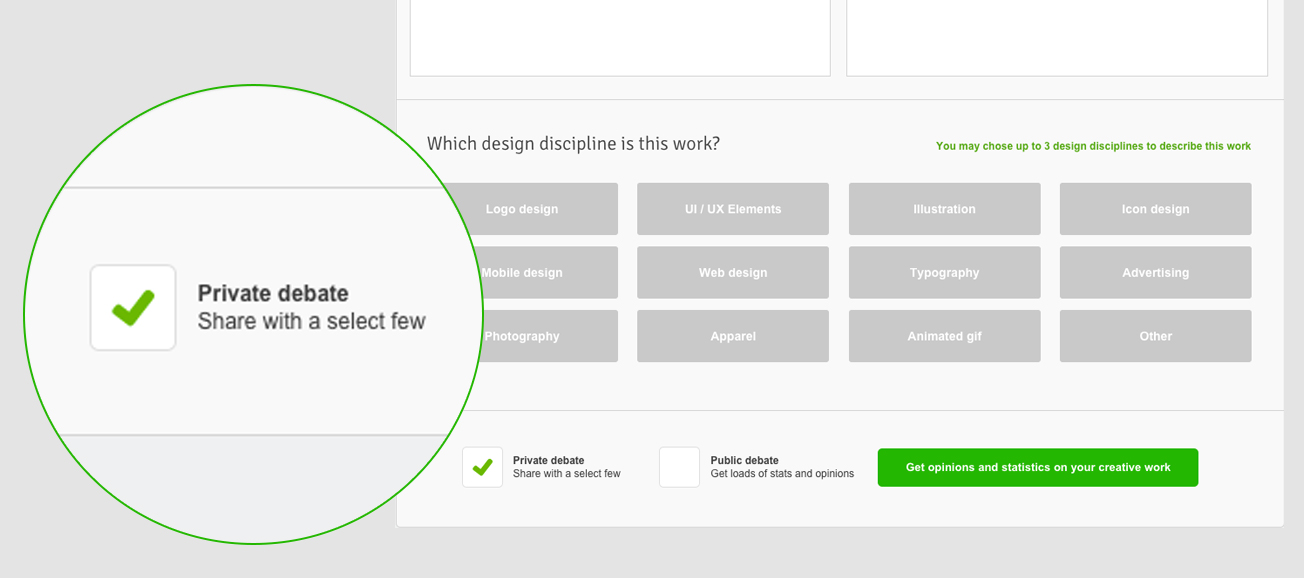 Working as an in-house designer or at a design agency
Private debates are great for companies or designers / design teams that are working on a project for a client and do not want to share the work that they do publicly. Creative teams can design a few options to fit the creative brief ( as they normally would ) and then, using DesinionPro, they can upload two of the leading design concepts and share these options internally, between the team, in house across the whole company, or with a select few trusted colleagues. Although the design debate is private the design team will still gather a varying number of opinions, statistics and comments on the designs from team members and other trusted colleagues, also the unique URL will serve as organized and secure place to gather opinions and feedback on the designs on show.
Working as a freelance designer
As a freelancer, working from home, in most cases it's just you, your computer, your sketch book, and your dog. With Desinion and DesinionPro, you don't have to get an opinion on your design concepts from your dog, you can share design concepts and ideas with a thriving design community, and in return get human opinions, feedback, comments and statistics on your designs. But what if you aren't quite ready to share your designs with a public community? What if you want to get direct though insightful opinions from a select few, a focus group or fellow freelancing friends. With DesinionPro Private Debates you can work your magic from your home studio, create some cool designs, and then share them privately with your trusted friends and fellow freelance designers, and get private opinions, statistics and comments on your designs for whoever you chose. Your private design debate, which is hosted on a unique URL becomes the organized hub for opinions on your concepts, a place where everyone who you selected to see your design concepts with can offer direct and to the point opinions, as well as insightful comments and statistics on your designs.
Working directly with clients or decision makers
Another great thing that you can do with private design debates is actually send the unique and secure URL that you receive it to your actual client or decision-maker and have them share it with their community. This always makes the client happy, as the client feels empowered to share your work, which they commissioned you to do, with their highly influential book of trusted contacts. This way the client feels involved and assured that the feedback, comments and statistics he's getting are useful in order to help them make a decision, as he or she is choosing who should see the design concepts and ultimately who should offer an opinion, comments and statistics.
Get Desinion Private Debates with DesinionPro today.
Desinion Private Debates is only available to DesinionPro users. DesinionPro is available to everyone and is very affordable at just $19USD per year, and includes great extra features, a list of which can be seen here.
Get DesinionPro and Desinion Private Debates here.