With Desinion getting more and more popular around the world, and more opinions offered on your design concepts (over 20,000 opinions have been offered at the time of writing), we want to once again highlight 5 of the best design debates that we have seen in the past few days.
Watchmaker – Which option do you like more – By Anton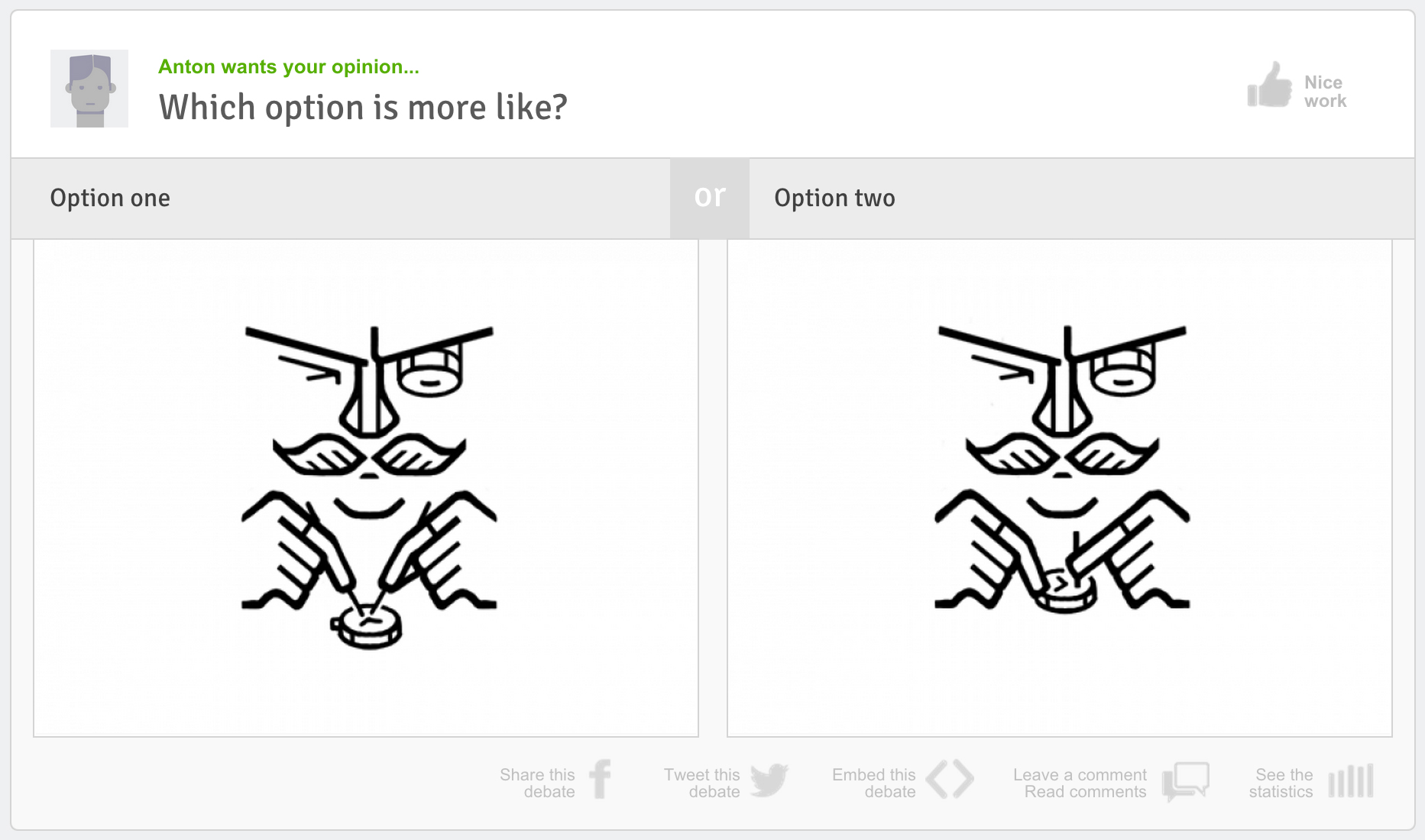 Anton set up a beautiful design debate between two very similar illustrations. Both illustrations showed a watchmaker, delicately and finely performing his craft, the different between them was that opinion one, had the watchmaker holding two pincers with both hands, whilst casting a careful eye on his work, the other design concept, opinion two, showed the mustached watchmaker, equally as concentrated, only this time, he is holding the watch with one hand and working on it with the other. The great thing about this design debate is the simplistic attention to detail. The illustration shows care and precision and that reflects a watchmakers traits.
See the stats or offer your opinion and comments on this design debate here
Diagram – With shadow or without shadow – By Jelle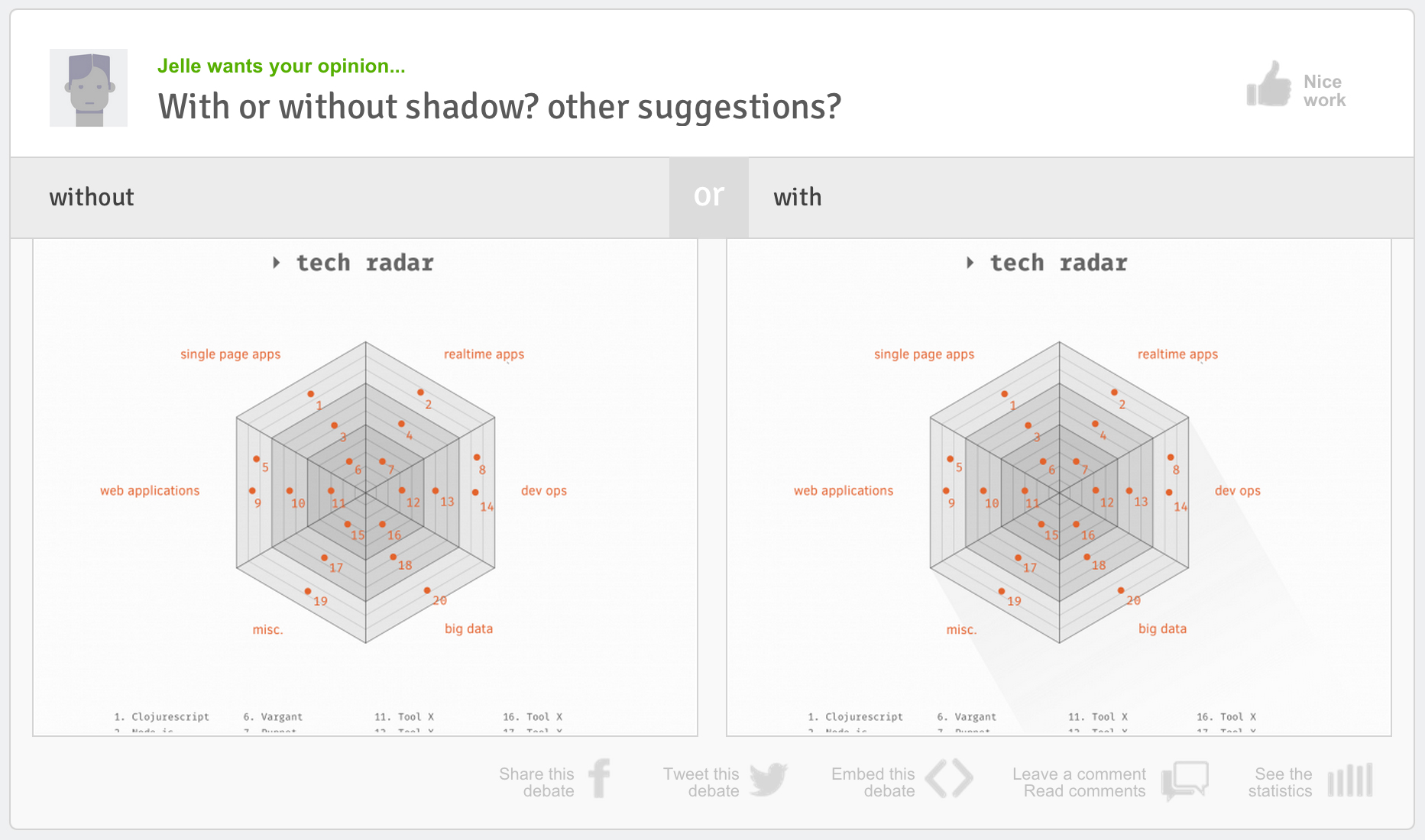 This was the first design debate submitted to Desinion that asked a question about the styling of a diagram. Created by the very talented Jelle, with the aim of finding out which diagram looks better, one with a slight shadow or one without and shadow. The Desinion community offered their opinion and one of these two options was an outstanding choice.
We appreciate how difficult it is to create diagrams that look good, so when this one came up, we instantly liked it for it's colours, its strong shape, its sharpness and font choices.
See the stats or offer your opinion and comments on this design debate here
Kitchen Table SF secondary logo / badge – By Amy Hood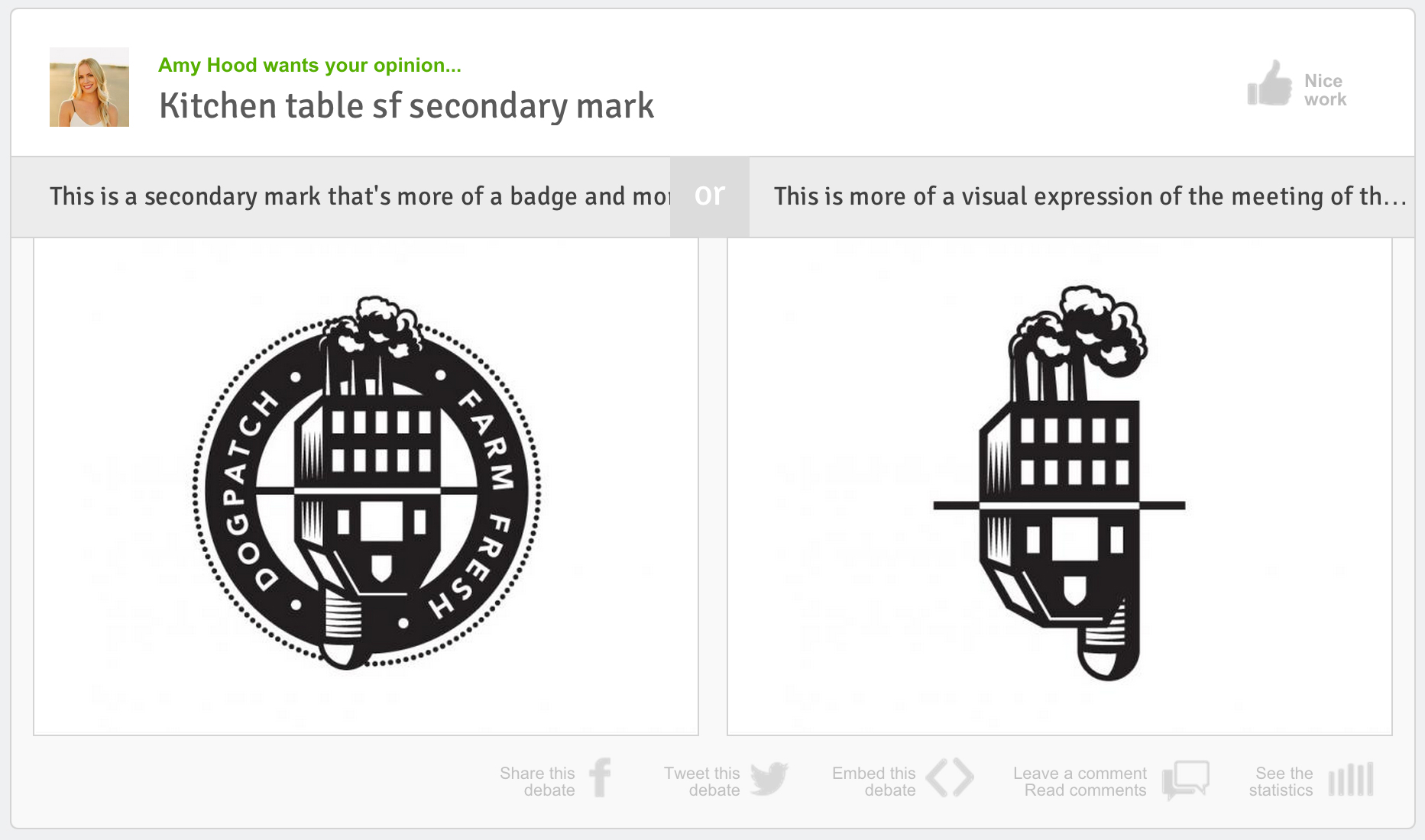 This was Amy Hood's first design debate, and what a great design debate it was. Amy is from the amazing design agency called Hoodzpah design co (check out their work / attitude, it's awesome – www.hoodzpahdesign.com), and we are super happy to see her / their work being debated on Desinion.
Amy wanted to test public reaction between two designs that could be Kitchen Table SF's secondary mark or badge. Option one included a circular band that would encompass the main graphic, and included the words Dogpatch (the area in San Francisco where Kitchen Table SF is located) Farm Fresh. Option two was more simplistic and stripped back, only showing the barn / factory graphic.
Both design concepts are brilliantly stylish, bold, cool and striking. This was a very popular debate that got the Desinion community commenting and offering their opinions.
As it stands with over 100 opinions being offered on these design concepts, one opinion is far more popular than the other.
See the stats or offer your opinion and comments on this design debate here
Chapel Gate Memorials – minimalist vines? or detailed vines – By Nico Encarnacion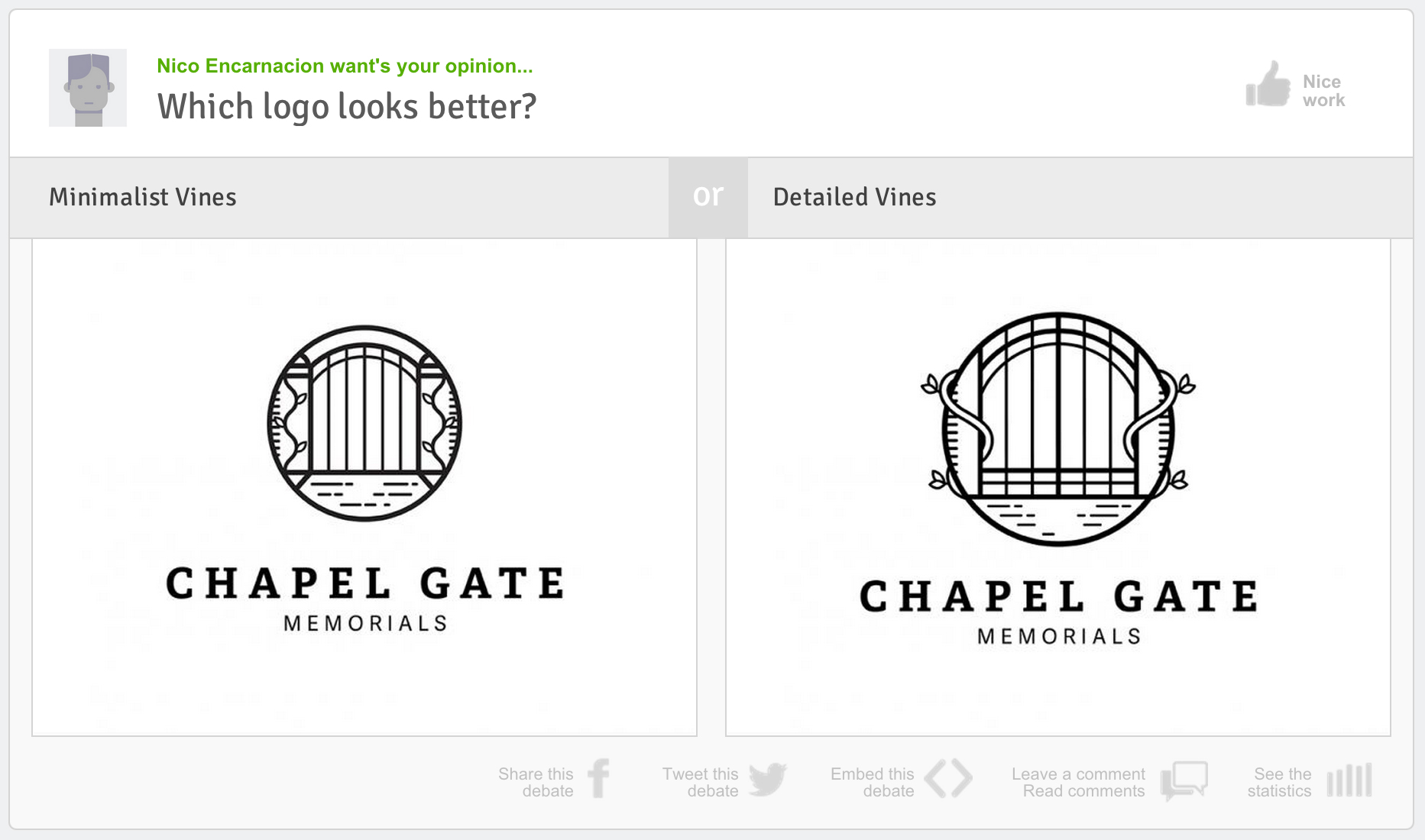 This is Nico Encarnacion's 3rd design debate, and what a popular design debate it was. Nico created two excellent potential logos for Chapel Gate Memorials, both similar in style, yet had slight differences in the placement of the vines and the position of the gate within the circle.
The debate received a great number of opinions and comments, and of the two options proposed, one was proven to be way more popular than the other.
See the stats or offer your opinion and comments on this design debate here
Pixilated Pizza – With edge or without edge? – By Gustavo Zambelli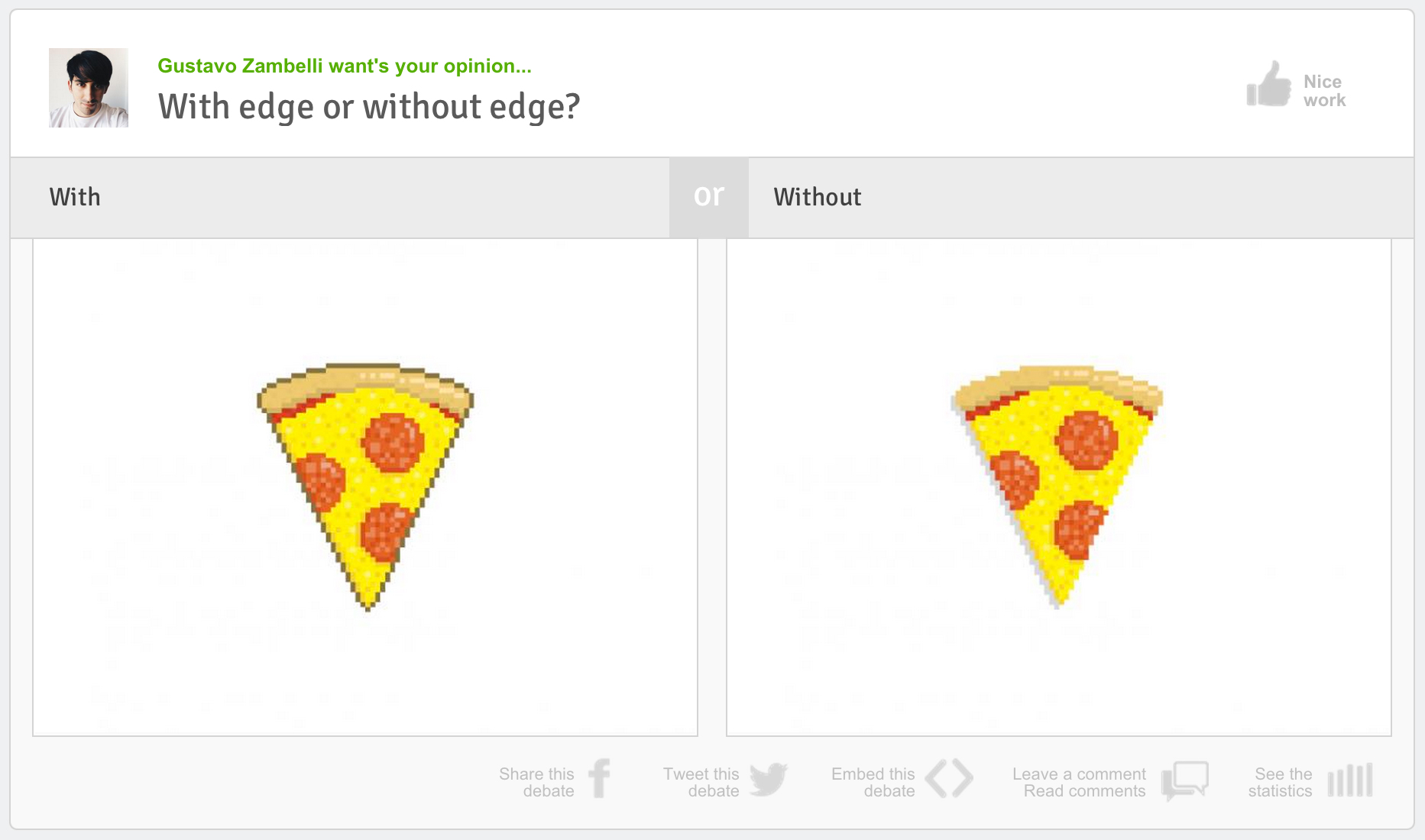 We love an intentionally pixilated slice of graphic design. So what better than a pixilated pizza from Gustavo Zambelli who designs for the amazing Ricos Quesos and Aerolab in Argentina.
Gustavo wanted to know which pixilated pizza slice you thought would be better? A slice with a pixilated boarder, or a slice without a pixilated boarder and with a shadow.
Offer your opinion and comments on this design debate here
It has been a great first month for Desinion and the designers / illustrators that have benefitted from getting feedback, comments and statistics on their design concepts. Word has spread pretty far about Desinion, and for that reason we are seeing a large increase in the amount of opinions given on your design concepts. Thank you to all that have created amazing design debate in the past few days. We hope that the feedback you have gotten proves to be useful.
If you are new to Desinion, and would like to offer your opinions on designers design concepts, or maybe you are working on a design or illustration yourself, and would like to get insightful feedback and statistics on your concepts, please feel free to sign up here.